Waste Recycling Machine
Waste Recycling Machine
FD-PR 140/120
Our waste recycling machine is applied for in-house recycling waste like HDPE/PP woven tapes, woven fabric, printed woven bag, film flakes etc. The pellets produced by the recycling machine can be used again directly in extrusion process as part of mixture to reduce the cost of raw material.
Features
Waste can be fed directly without crusher process.
Equipped with manual filter changing device providing time-saving and convenience of filter changing.
Water tunnel cooling (spaghetti type) to ensures optimal pellet quality.
Ideal cutting machine giving round-shaped, uniform size pellets.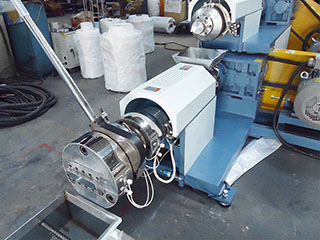 Manual Filter Change System