High Speed & High Capacity Flat Yarn Making Machine
High Speed & High Capacity Flat Yarn Making Machine
FTH-350 & FTH-500 & FTH-650
The FTH-350 & FTH-500 & FTH-650 Tape Stretching Line are the ideal machine to produce high quality and precision cross winding packages of PP/HDPE flat tapes.
Features
The line adopts Micro Controller, Thyristor, Temperature Controller, Speed Regulator, Pressure Gauge to ensure accurate control.
Setting and display of technical parameters is fully digitized on Human Machine Interface (HMI).
The line is designed with state-of-the art technology to give high output, ease of use, less wastage to achieve excellent performance.
PID temperature controller ensures accurate heating to avoid production defect.
Screw is with unique design and 38CrMoal standard to get fine plasticizing effect and longer service life.
The machine comes with utility equipment such as mixer, auto. loader, water tower, edge tape recycling & collect system, control box, and air conditioner.
The dual filter screen belt is to filter the impurities in the melt, the movement is control by time and pressure and the rate of travel is adjustable.
Integrated flat T-Die component offers optimum mass flow distribution and minimum gauge variation across the width.
Melting Pump is used to neutralize the effect in the surgings in the extruder and ensure uniform delivery of melt to the die, it improves the denier variation in the machine.
Advanced extended dual oven design with 6 M heating channel, energy-saving with two circulation blower with independent control system to give uniform quality of tape.
Comprising stretching unit and annealing unit with 6 godets, having diameter∮415 mm. Max. Machine Speed: 450M/Min. The configuration of the godet is arranged by providing mix of normal, hot, and cold godet, having protection cover and emergency line switch to ensure operation safety.
Each spindle is driven by individual frequency to give adeeuate power to the motor that save power consumption. It reduces moving parts to lower frication in mechanism make it a low maintenance cost. The design is for flexibility in changing winding ratio for producing wariety ot tapes.
Whole machine is synchronously by PLC programmable through HMI for easy production data management. All parameters are stored in the memory as a receipt, which can be recalled immediately on request.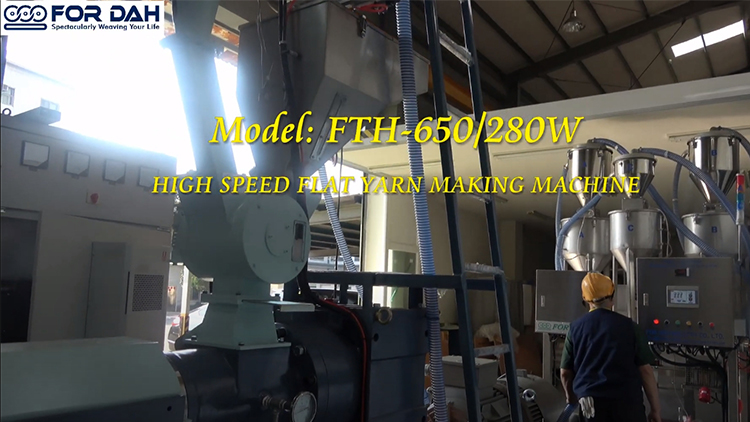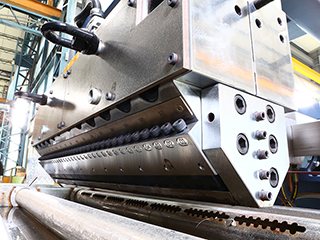 Specially Designed T-die Assures High Quality Production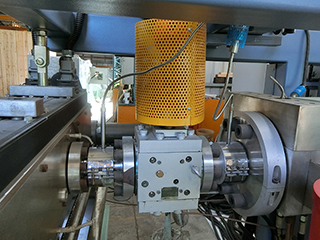 Melting Pump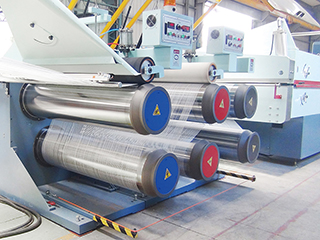 Bigger Stretching and Annealing Unit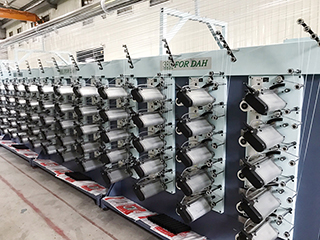 Inverter Winder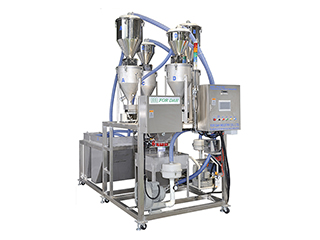 Gravity Dosing Unit