Double Side 3~6 Color Piece to Piece Printing Machine (Direct Printing)
Double Side 3~6 Color Piece to Piece Printing Machine (Direct Printing)
ED400 Series
It is available for double side printing.
The double side 3~6 color piece to piece printing machine is applied for solvent-based ink and direct printing method for PP woven bag with/without lamination, it is suitable for double side ordinary printing with simple pattern i.e logo, words, image, which is required for stuff presentation and company identification.
Features
Available to perform full size printing on the PP woven bag.
Max. 2 color double side printing is available for bag denier more than 800D.
In case of no bag is fed to the ink rollers the printing roller will separate automatically to prevent ink staining the conveyor to keep clean on the bag.
Special design of anilox roller and ink roller to prevent splashing of ink.
Colorful operator-friendly human machine interface (HMI) is easy to set parameter and clearly read the production record.
Equipped with cubic differential transmission for each color to make printing registration (up/down, right/left) without stopping machine.
With auto. ink circulation device to maintain uniform ink viscosity giving good printing quality.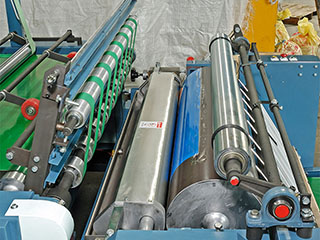 Back Side Printing