Auto. Cutting, Sewing and Double Side 2~6 Printing Machine
Auto. Cutting, Sewing and Double Side 2~6 Printing Machine
ED600-3C Series
It is the combination of auto. cutting & sewing machine and double side printing machine to be online operation to perform a ready bag. With auto. online working process ensures the saving of labor with productive capacity.
Features
Cutting unit and printing unit works simultaneously that minimizes the miss of printing job.
Convenient operation and trouble-free to take care the machine easily.
Selection of either auto. cutting & sewing unit or printing unit is available upon request.
With working table to manually feed bag for printing without processing from auto. cutting & sewing unit.
The unwinder is with pneumatic pedal device to lift the fabric roll easily without any mechanical tools.
The cloth feeding is driven by dancing roller to maintain uniform tension of the fabric.
Dual servo control for cloth feeding and bag clamping minimizes the cutting length variation.
The clipper arm is mounted with silicone screw to avoid pricking the surface of bag.
EPC device to control the edge position for varying web width.
Union Special sewing head is available on customers' request.
With colorful operator-friendly human machine interface (HMI) offers English, Spain, Russia, Arabic, Chinese, French to access the machine operation easily.
In case of no bag is fed to the ink rollers the printing roller will separate automatically to prevent ink staining the conveyor to keep clean on the bag.
Special design of anilox roller and ink roller to prevent splashing of ink.
Equipped with cubic differential transmission for each color to make printing registration (up/down, right/left) without stopping machine.
With auto. ink circulation device to maintain uniform ink viscosity giving good printing quality.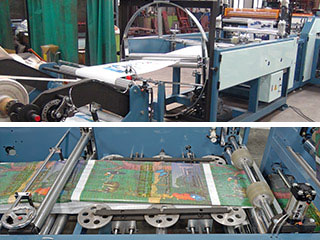 Inline Edge Rotating & Gusseting Device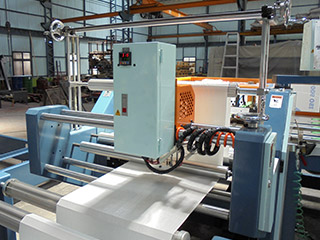 Punching Device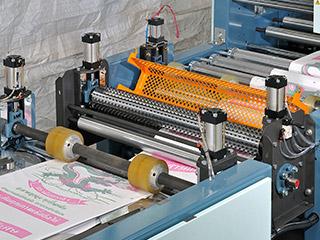 Micro-Perforation Device
Double Stitching Device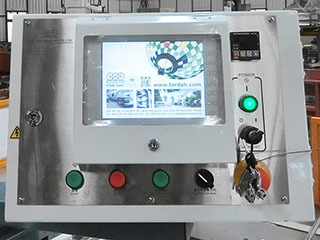 Human-Machine Interface control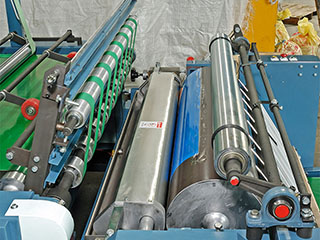 Back Side Printing